American Football is an exciting sport that has grown in popularity over the years, particularly among college students and professional players.
Virtual reality and augmented reality are revolutionizing the way things are done, and American football is no exception. Coaches have recently begun to use virtual reality (VR) technology to boost player performance during training.
One specific example is NFL virtual reality training, which allows players to work and learn without risking harm. But, before we get into that, let's take a look at how VR is employed in American football.
Uses of VR in Football
Virtual reality is used in American Football for player recruitment, player training, scouting, and advertising.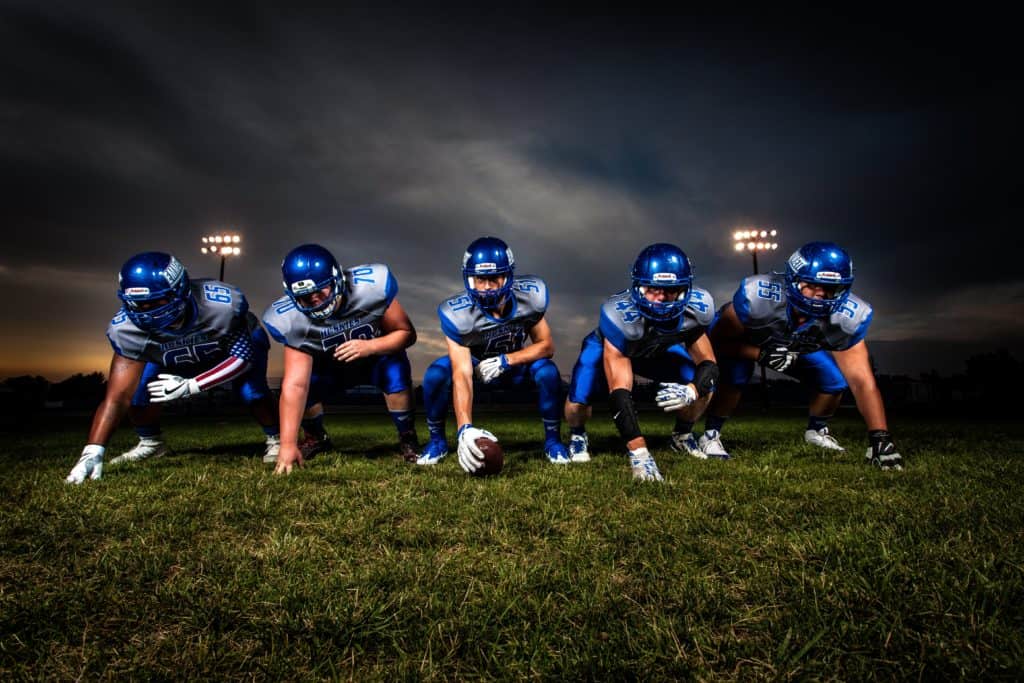 Recruitment
College football recruiting is a fiercely competitive process that often affects aspiring players' future professional possibilities. To improve this process and level the playing field, particularly if football recruitment cannot be done in person, it can be done electronically.
The C6 and HMD are vast enhancements over the conventional technique of using recorded recordings to replicate the ambience of ISU Cyclones football games. They provide a better and more immersive alternative to the traditional game-day experience.
Additionally, the C6 and HMD are both more immersive than previous technologies that have been used to recreate game-day experiences. They provide a more realistic and accurate representation of what it is like to be in the stadium on game day.
The C6 and HMD are also more affordable than other similar technologies and more portable.
Training
Coaches with this kind of experience are able to see all of their players from a different perspective, as they are much closer to the action.
Wearing headsets allows players to see a variety of circumstances, including how an opponent moves across the field. QBs can also review their performance, such as footwork, during recorded training drills.
The use of virtual reality in NFL training sessions improves player performance in a variety of ways:
Ability to read offence and defence schemes correctly
Improved throw accuracy
Instantaneous feedback on in-game actions
Develop muscle memory
Develop generalization and long-term retention skills.
There is no risk of concussion harm for players.
Virtual reality headsets can be used as virtual playbooks by young players.
Psychologists merging VR tech with cognitive behavioural therapy assist athletes to cope with anxiety and pressure during competition.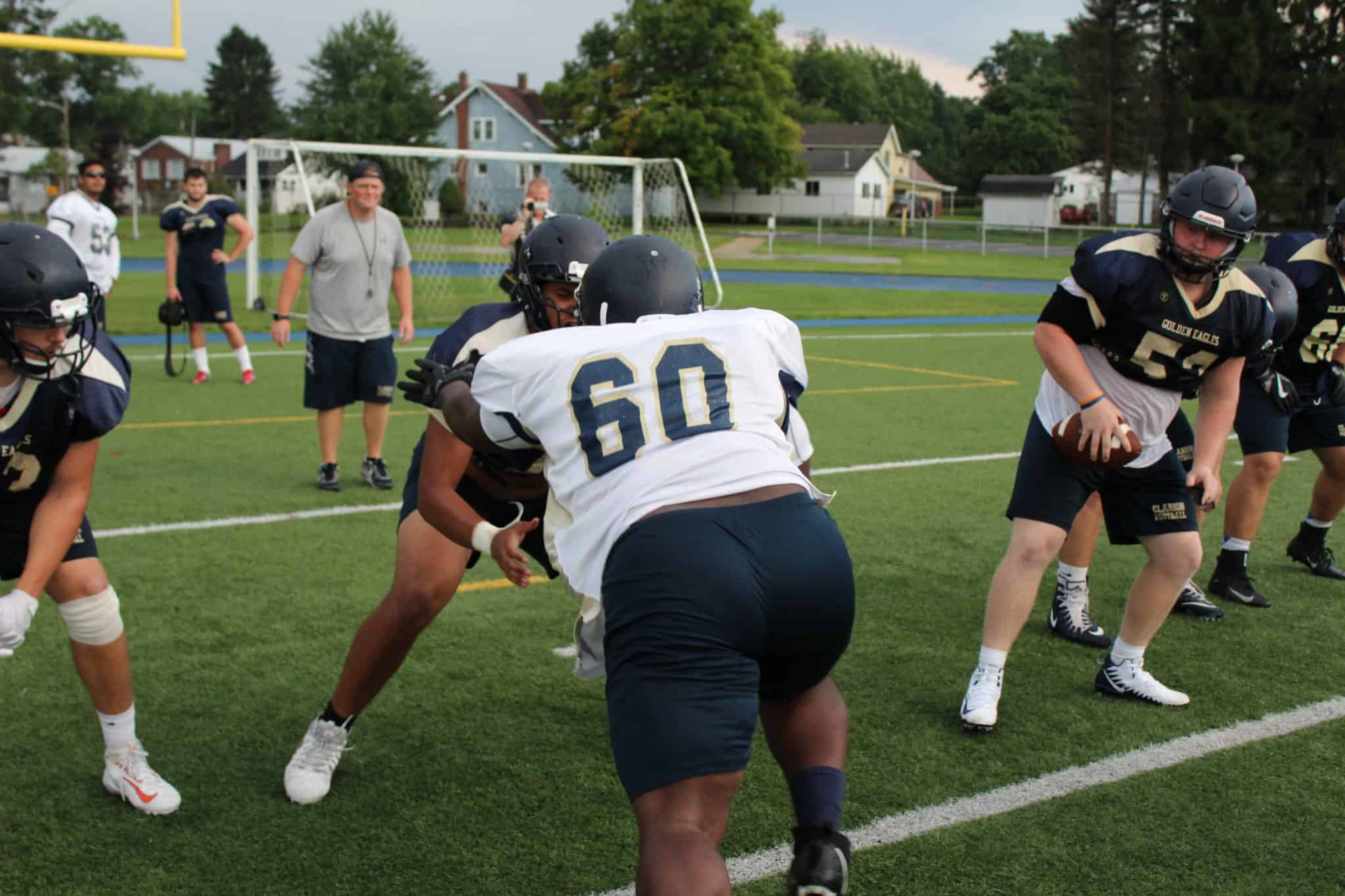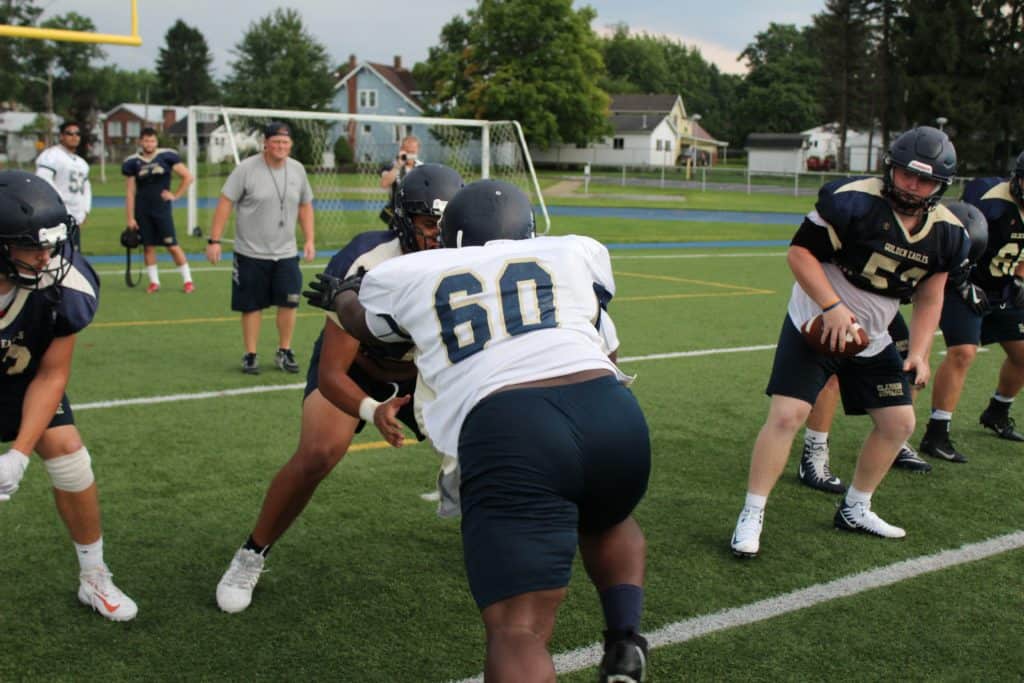 Scouting
Scouts, for example, can utilize VR to see if a quarterback is in the proper spot or aiming at the right target. Furthermore, virtual reality scouting allows for a more in-depth examination of plays than traditional scouting. Scouts will be able to discover physical and mechanical defects that have caused some highly skilled athletes to fail using VR technology. 
This technology is currently being used by several college football programs including the University of Southern California (USC), Georgia Tech, and Stanford. The first instance of VR scouting took place during the 2015 season when USC used it to scout players for their game against Oregon State.
VR scouting can also be used to help teams prepare for opponents. For example, if a team is playing an opponent that likes to run a lot of zone plays, the team can use VR to scout those plays and learn how to defend them.
Scouts can also utilize VR gadgets to collect unique data sets to evaluate players. During plays, coaches will be able to see where players are weak.
Advertising
Customers may see your product in a whole new light with AR and VR. The NFL has long been a leader in AR technology adoption, as seen by the yellow "first down line" that appears on every telecast. One of the first commercial implementations of augmented reality is this inconspicuous, hardly visible image. You might not think this was cutting-edge technology, but you would be wrong. It's an innovation that has taken the sports world by storm and continues to be utilized in other major sporting events.
The NFL is also one of the first organizations to adopt virtual reality technology. The league began experimenting with VR during training camp in 2016, giving players and coaches a new way to review game film. The technology has continued to evolve and is now being used by teams to give fans a virtual stadium experience.
Additional information has been added in subsequent years, allowing for the display of text and other images on the playing field. Any business, especially those seeking methods to integrate AR and VR technologies but unclear how to go about it, can gain from advertising via VR in American football.
AR technology can do much more than simply insert information into an image. AR software is used to overlay a computer-generated image onto real-world objects, such as furniture in IKEA stores or clothes in Gap stores. Consumers are able to see what a piece of furniture might look like in their homes and try on clothes before they purchase them.
The NFL has been experimenting with virtual reality technology since 2016, working with NextVR to produce game highlights in virtual reality. This allowed fans with virtual reality headsets to experience the game from multiple perspectives as if they were there.
Playing football using VR
The need for VR became apparent because of the high risk of injury and concussion associated with American football. It wasn't enough for players to be able to observe the action in virtual reality; they also needed to be able to engage with the game.
Previously, NFL players would remember plays by taking home a 300-page playbook. Some NFL clubs are now using virtual reality (VR) technology to put players inside the play, perhaps speeding up the learning process when they're not at the team's training facility.
The NFL has added Simulated Reality (SM) to this, which allows American football players to safely perform practice games without risking harm. The user is immersed in the desired environment by using head-mounted displays or virtual reality rooms.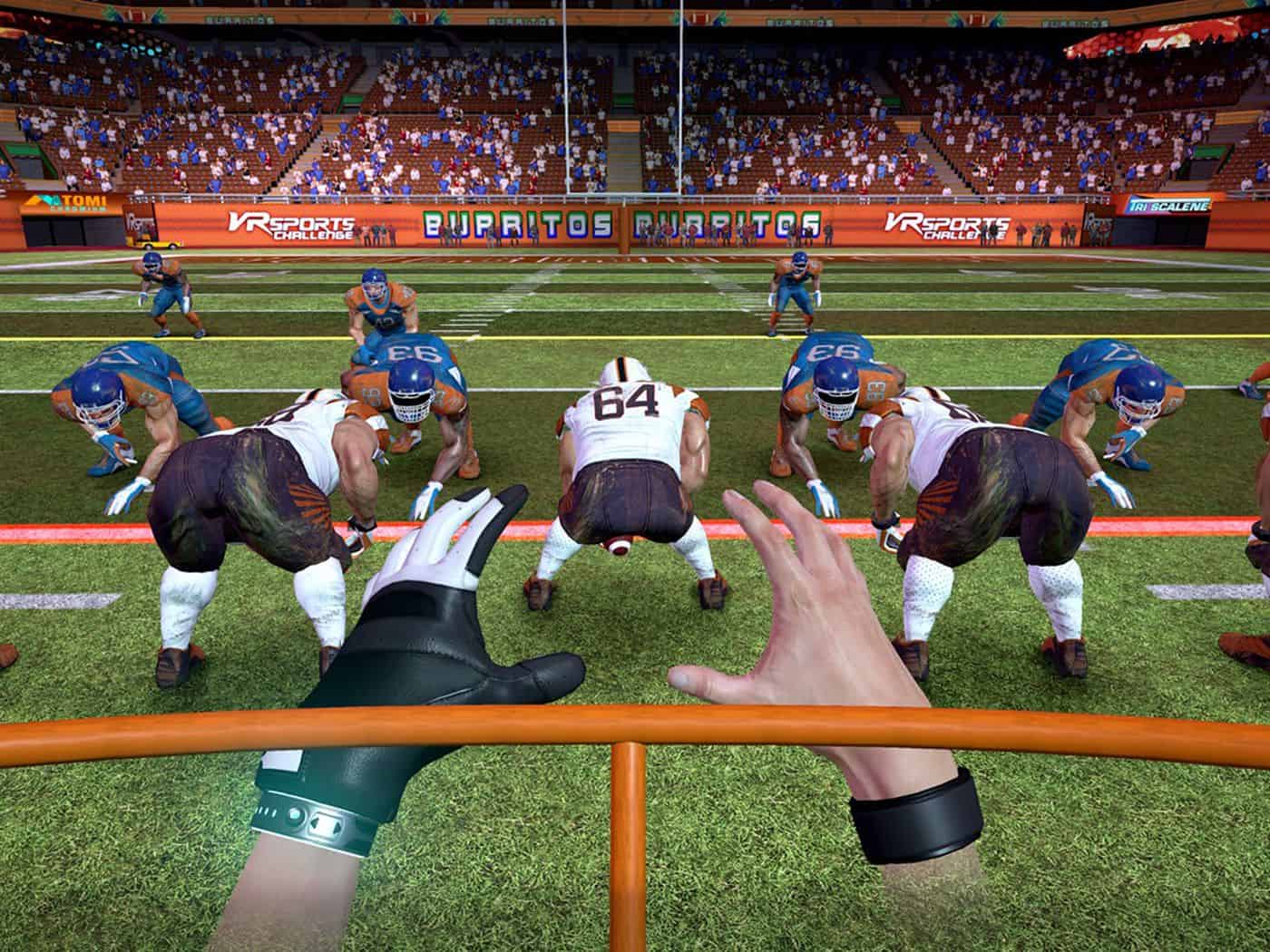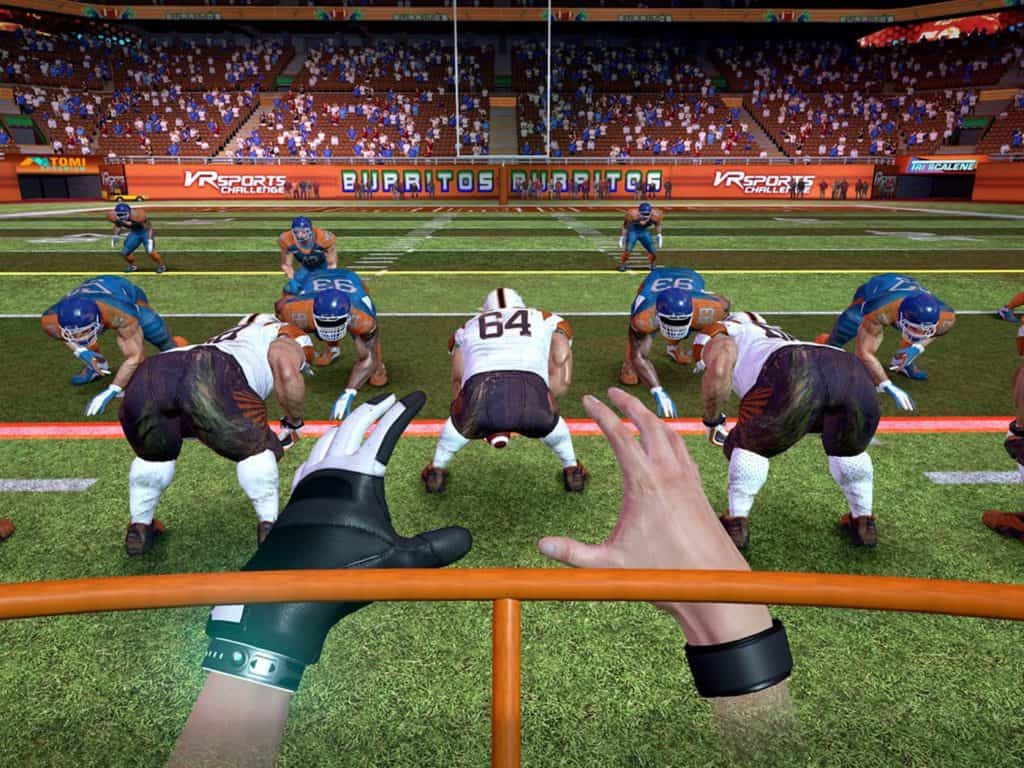 These surroundings use 3D Touch, a haptic technology that integrates vibrations and pressure into the experience, allowing the user to feel. The user can look around and move around in this created world, as well as interact with virtual items because they rely largely on video and audio feedback.
For example, the QBSIM platform combines cutting-edge VR training technology with optimal quarterback training practices. As a result, the quarterback is thrust into the midst of the action in an immersive experience.
An actual ball can be used by the player to complete realistic game behaviours. The responses of the players to the simulation are then recorded and used to improve the simulation and player performance.
In addition, STRIVR's VR technology has a 360-degree camera and audio system that records all on-field activity, allowing teams to record immersive one-on-one exercises and team parts, as well as for simulating opponents.
Players can use this to get mental reps, understand game techniques, and make better, faster decisions in real-world games. For an increasing number of players and coaches, these platforms have been credited with improving player performance.
The New York Jets, Minnesota Vikings, Arizona Cardinals, New England Patriots, Tampa Bay Buccaneers, Dallas Cowboys, and San Francisco 49ers are among the NFL teams who use virtual reality in training.
Bottom line
In American football, virtual reality has grown extremely popular, and its use in sport never ceases to increase. Virtual reality and augmented reality are expected to generate billion-dollar businesses in the near future, according to most industry professionals and analysts, since they provide immersive experiences that no other technology can equal.