More than just the next great thing, virtual reality is taking over the world now. Companies like Google and Meta are significantly investing in virtual reality technology because it is the next big thing. Oculus Rift was purchased for $2 billion by Meta, which recently erected a 22,000-square-foot research centre called Area 404 to focus on virtual reality. Makes you want to make money from virtual reality.
Investing in virtual reality is a fantastic idea for many reasons. In today's world, virtual reality isn't simply just for gamers. Virtual reality has made it possible to go on trips, look for a home, take lessons, and even raise money for a project using virtual reality.
So, how are you going to generate money with this new technology? here are 11 ideas to inspire you on how you can make money from virtual reality.
1. Become A Virtual Reality Professor
Virtual reality may be used in many disciplines, such as literature, history, geography, and more. Imagine being able to experience virtual reality panoramas of any location on the planet right in front of your eyes!
Isn't it possible that students' interest in the topic would rise as they gain more knowledge? Who among us has ever wished to view a tornado or a volcano in full rage without risking injury? Virtual reality (VR) appears to make practically everything feasible.
Virtual reality (VR) may use to teach anatomy in a novel manner. It's a great way to show the human body, organs, and other things in action.
Educating students with special needs is made easier thanks to virtual reality (VR) technology. For example, by helping those with autism, to make eye contact and to work in a group. These are only two examples of vital communication skills that may practice in numerous circumstances.
Creating a VR educational experience is definitely something that you can look into that could potentially bring you big bucks.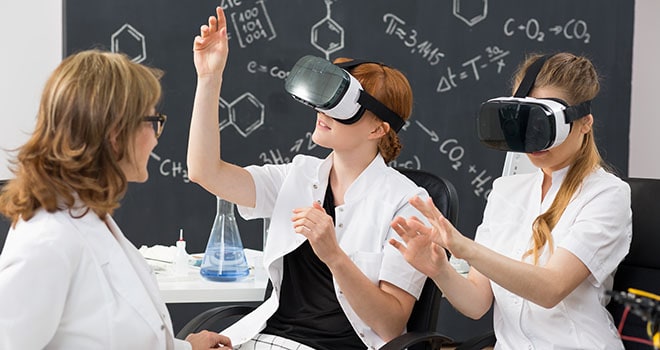 2. Start A Blog About Virtual Reality Technology
If you don't know how to do something, you may get a virtual reality headset for less than $20 and start watching stuff on Facebook or YouTube. Virtual reality applications and experiences, platforms, and so on may then be discussed in detail on their blogs.
If you're a rising blogger, you may contact virtual reality game developers and ask for free applications. You may build a fan base and earn money from display ads and sponsorships over time.
If you have only a few articles or a few months of experience, content providers will offer you early release or test copies of their games. For them, it's free advertising. Instead of paying for applications, you'll be compensated for your time testing them in the future.
Blogging is something that still works and will work in the world of VR. I mean, you are reading this article after all.
3. Use VR For Military Training:
Infantry training is costly, risky, and time-consuming. Consider using virtual reality (VR) to alleviate these drawbacks. Immersive virtual reality experiences may make training more efficient, safe, cost-effective, and enjoyable. Immersive military training scenarios are available now, including boot camps, battlefields, planes, medical training, and naval simulators.
In addition, VR may be used anywhere: in a classroom, on the field, or in any other setting. There are many moving components in virtual reality training for the military.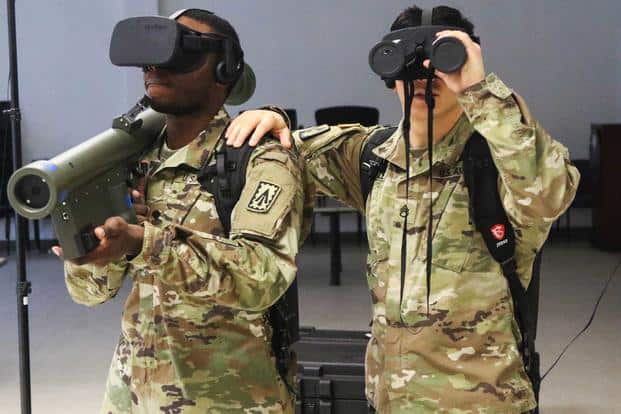 4. Sell Virtual Reality Tickets To Your Concert:
It's possible that virtual reality may benefit you if you've got a band but aren't quite ready to fill stadiums. Virtual reality technology, for example, may be used to simulate front-row seats from any location. Isn't that awesome!
There are more and more live virtual concert and performances than one may attend. And to that end couple of companies have already started getting their hands in this type of business. Companies like Oculus, melodyvr, concertvr, amazevr have all started to dabble in it.
Virtual reality headsets won't simply be for major concerts; independent musicians will be able to sell virtual tickets to their club events or more personal studio sessions. A 360-degree camera, the Vuze, may be purchased for as little as $799. 
5. Use VR For Medical Training
A shortage of skilled physicians and medical workers is a major problem that has to be addressed now. Remote therapy is something we hear a lot about. Is it possible to feel it? Surprisingly, the answer is yes.
Moreover, it's feasible that significant progress has already been achieved in this direction. Virtual reality (VR) technology is essential for the development of a full-fledged remote therapy.
The use of virtual reality (VR) in surgical education is a game-changing development. It is possible for a novice surgeon to feel apprehensive before operating.
However, students still need to work on their talents in a safe environment. Preventing essential consequences is possible with VR. With the help of simulations, even the most inexperienced users may get a thorough understanding of each organ in the human body.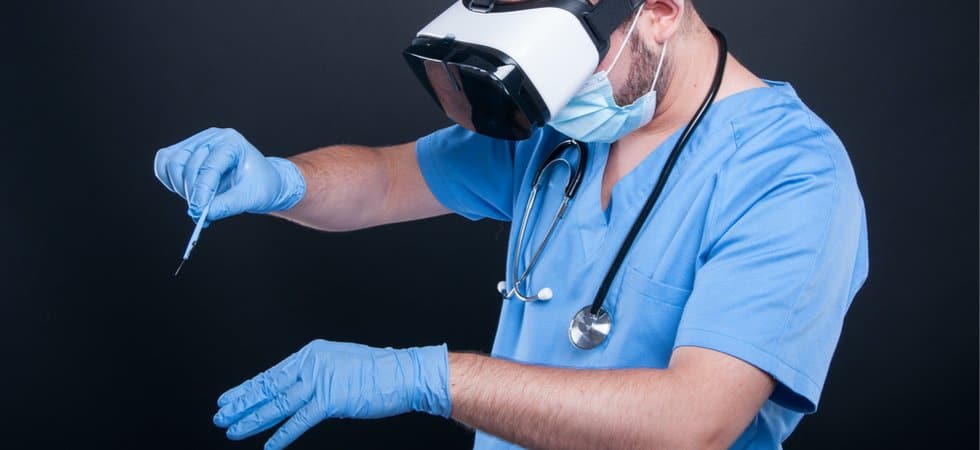 6. Build Virtual Reality Real Estate
As a graphic designer, boutique virtual reality firms may pay you to develop "real estate" in their games. Virtual reality designers who have access to the proper tools and resources may be able to construct their distinct architectural styles in a virtual environment and then market the resulting designs to other virtual reality content producers.
Voxels, rather than pixels, and thinking in 3D rather than 2D are the new challenges for individuals with present technical abilities.
While digital builders can already create real estate in virtual worlds like Second Life, they will soon be able to do so in the same manner they did in Minecraft, with the added benefit can explore their creations in a whole new way.
This is not counting the ability to do virtual tours on any property without the need to move around. Real estate can benefit a lot from the advances in virtual reality.
7. Use VR For Heavy Industries
Virtual reality (VR) is also being employed in heavy industries for training reasons. It is very expensive to effectively teach huge groups of individuals. It's just a matter of time until this sort of instruction becomes more available to the general public.
You may, for example, develop a danger scenario to ensure that your students are prepared to deal with any knotted situation in the future.
With VR-enhanced learning, trainees are immersed in the realities of the job. It lowers the stakes and provides a more secure setting for training. To practice without endangering people's lives, you may build a realistic scenario of a fire, an emergency, or a natural disaster.
It is possible to deal with leaks of methane gas, operate in a VR plant, extinguish a fire, and so on. There is no limit to the number of learners who can learn the necessary skills.
"Rosatom" is an incredible illustration of how VR is being implemented in the industry. Virtual reality (VR) utilizes to build nuclear power plant units more efficiently. As a result, it's easier to get the job done faster. Using special suits and gloves, VE CADWall tracks a person's movements in front of a virtual landscape.
In addition that that, there are devices that allow workers to be safe by using technologies hands-free. Such a VR tool is the RealWear Navigator 500, which allows workers to use their tablets at all times without necessarily and actively touching it.
8. VR For Entertainment
The game sector is an attractive option for virtual reality. Games captivate all age groups, from young children to young adults. Immersive entertainment, such as VR escape rooms, sitting or warehouse VR games, and so on, is a favorite pastime for them. Because of this, LB VR is a successful company. It's virtually always possible to make money directly from it.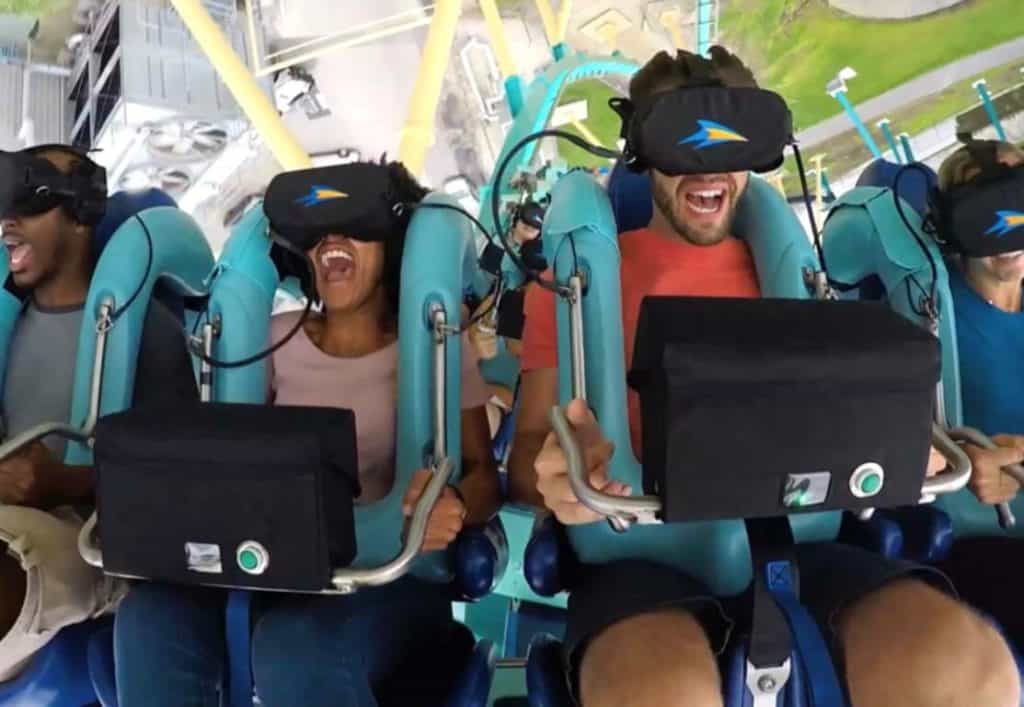 9. VR For Video Shooting And Design
For videography and design, virtual reality has so many secrets that you should explore. So many amazing sites are out there. Sadly, we can't tour the whole planet, but we can enjoy the beauty of it through 360-degree streaming video instead.
A wide range of industries, including design, sales, fashion, and so on, have embraced 360-degree video streaming. A VR-enabled exhibition or showroom might be a huge hit.
Virtual reality makes it simpler to buy a property since you can examine the many interiors and exterior options for yourself. Customer time may be saved by making a virtual tour and highlighting all of the positives and negatives of each property.
As you can see, there is a slew of options for making money off of virtual reality. You may choose one based on your preferences and talents. It's a difficult decision since each variety has its advantages. Make thoughtful decisions and achieve success.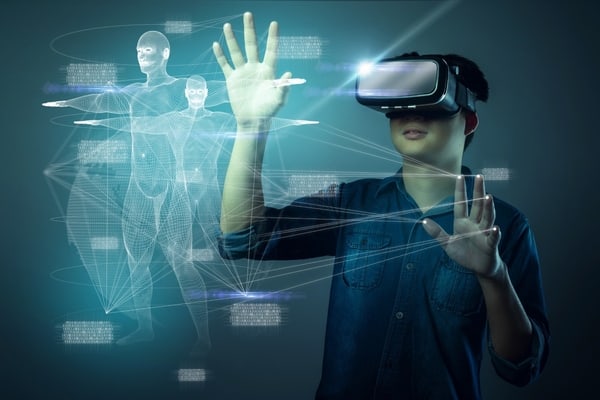 10. Create A Youtube Channel About VR Stuff
You may also set up a YouTube channel of your own. Your content may be a review of VR products, new VR gadgets, "How To" lessons, or a walkthrough of games. Once you meet the YouTube standards, such as 1,000 subscribers on your channel and 4,000 view time hours, you may begin monetizing your channel.
11. Rent The VR Equipment
Alternatively, you may be able to rent your VR equipment on a day-to-day or monthly basis. Virtual reality headsets, controllers, motion capture systems, and studios are all examples of equipment that may rent out.
Some people may wish to test it out first before making a final decision. Alternatively, they may utilize it once in a while but would want to do so for a specific event or occasion.
Bottom Line on how to make money with virtual reality
Ultimately, these alternatives will provide you with some ideas on how to get started in the world of virtual reality. Other options exist, for example, you might start a blog and write about virtual reality (VR) trends, but the field is currently quite saturated. Playing virtual reality games may potentially earn you money.