In the past, we wore mechanical, automatic, quartz, and digital wristwatches; these days, we have expensive smartwatches, which mean to make our lives simpler.
Watches were popular in the seventeenth century, and we must agree that they have gone through a lengthy evolutionary road to becoming what they are today, that is, components of style that blend fashion and practicality in an innovative manner.
Initially, just a pocket watch was available, but after World War I, everybody accepted hand variations. Since then, the smartwatch has become a fantastic object for individuals all around the world.
Although mobile phones are more than they used to be and may overcome watches, they continue to transcend trends and setbacks and, in the long term, will remain a vital accessory for all fashion-conscious men and women.
In addition, they improved in contrast to their forefathers, merging technology with watchmaking heritage and quality. Expensive Smartwatches are elegant and frequently expensive because they provide their users with much more than just a time display.
These are wrist-worn computers that include GPS, portable media players, thermometer and speedometers, directions, fitness trackers, and alerts of incoming messages or missed calls.
We want to give you the ten expensive versions since they are also embellished with gold and diamonds, reflecting a fashionable statement of the person wearing them.
10 Most Expensive Smartwatches
1. TAG Heuer Connected
The Tag Heuer Connected is a beautiful, comfortable-to-wear smartwatch that is simple to fall in love with at first sight. As a result, this Luxury smartwatch is at the top of our list.
Expensive Smartwatches featuring a 1.39-inch OLED display and a Qualcomm Snapdragon 3100 CPU expects to function smoothly for up to 25 hours on a single charge, making this one of the best options for those looking for an affordable wristwatch. The watch is powered by Google's Wear OS.
It has a variety of sensors such as an accelerometer, gyroscope, GPS support, and many more to provide you with all the necessary information with different strap attachments.
It has many case materials to choose from, including stainless steel grade 2 titanium ceramic sapphire and many more, enabling you to find the perfect match for your taste.
The watch is IP67 certified 5ATM water-resistant, and the screen is covered by scratch-resistant crystal glass, which makes it dust-proof, scratch-resistant, and waterproof, so you don't have to worry about dust, water splashes, or having it damaged.
If you want a premium-looking smartwatch with many case options, straps, and sensors, the Tag Heuer connected is the way to go.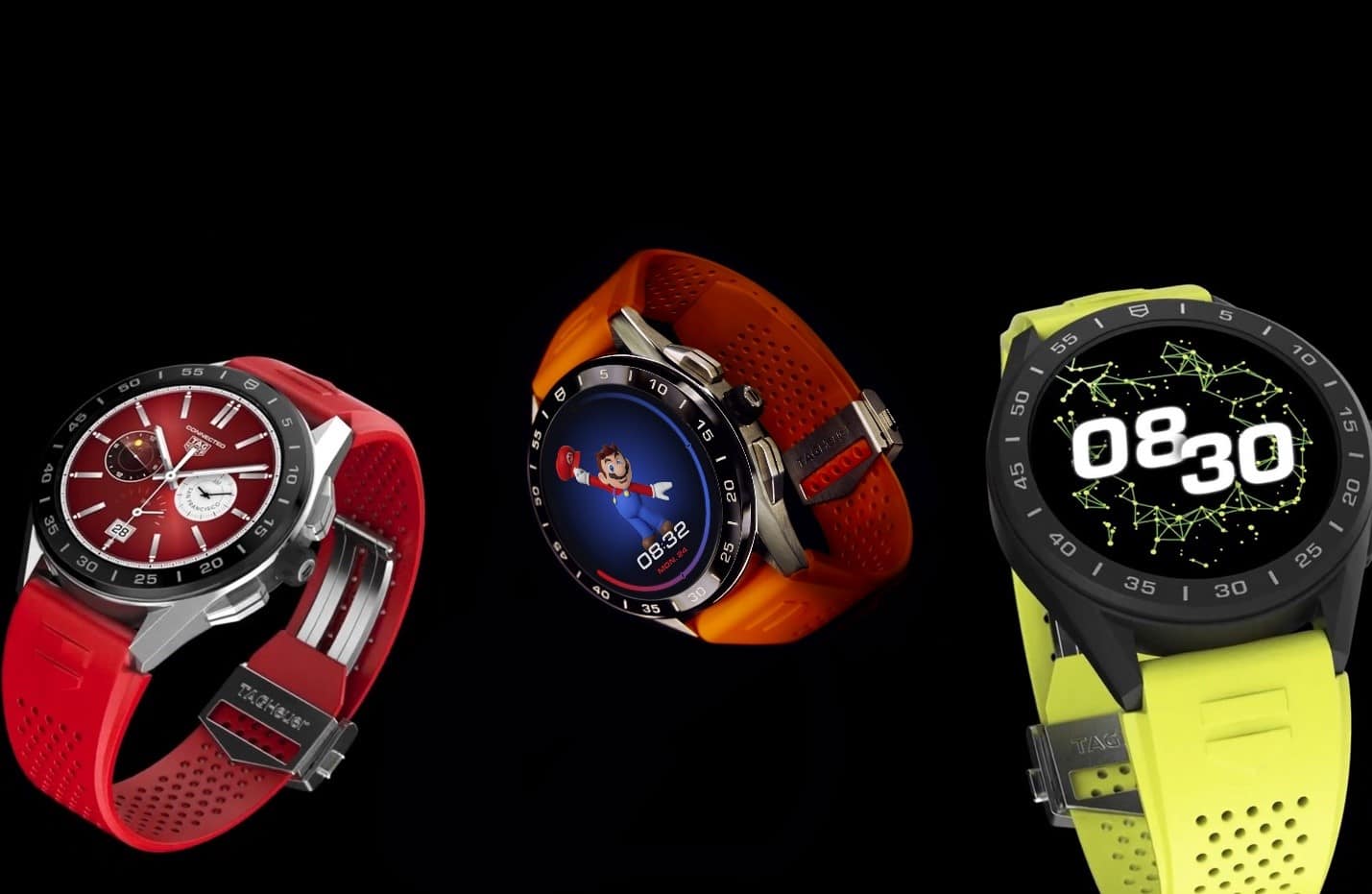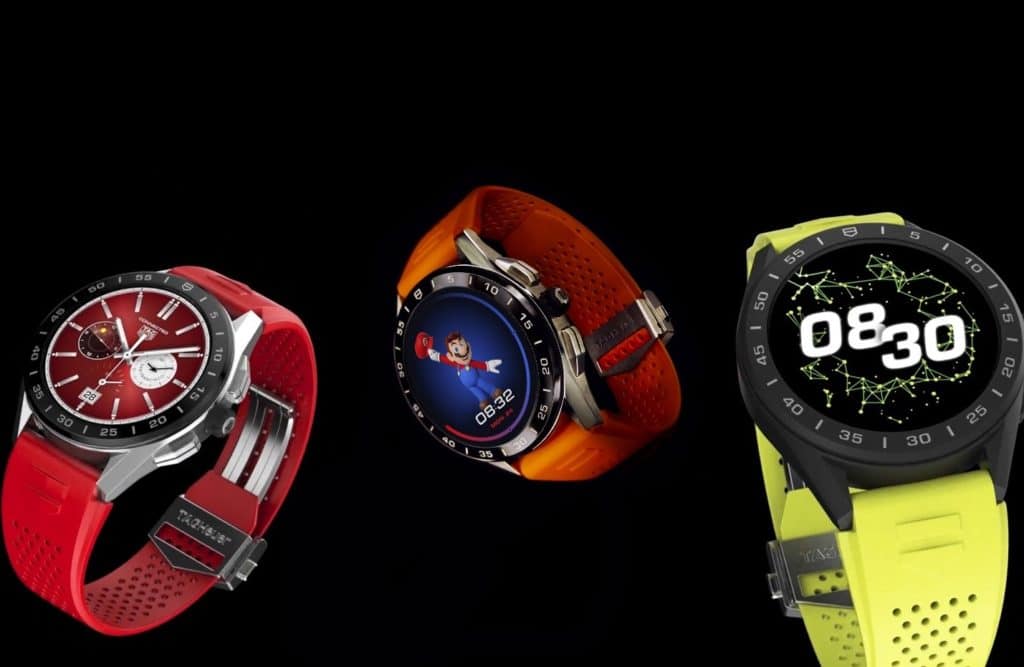 2. Brikk Lux Watch Omni
Even if you're a die-hard fan of Apple products, there's a wristwatch on the market that will cost you less than some people earn in three years.
Brikk, a luxury watchmaker, designed the Lux Watch Omni 18K Yellow Gold. It is a diamond and gold Apple Watch. Since Apple does not create or sell watches, this one qualifies.
The Brikk Lux watch is available in two sizes, 38 MM and 42 MM, and costs $109,905 or $114,995, respectively. Those are modest costs when compared to the TAG Heuer, but it also doesn't feature 24 carats of diamonds — just a pitiful 12 carats.
The watch's technical specifications are identical to those of whatever Apple Watch you choose, so you know what you're receiving. Until then, you'll have an Apple Watch encrusted with diamonds, which will set you apart from the Starbucks crowd.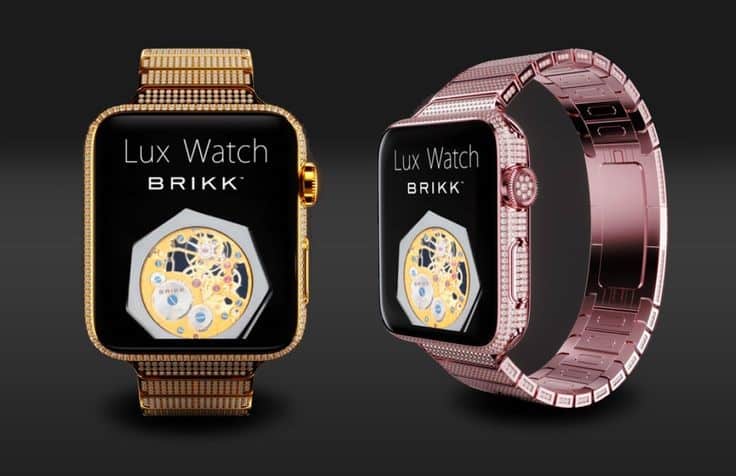 3. Garmin MARQ Driver
Expensive Smartwatches, such as the MARQ line from Garmin, are aimed towards professionals, such as racers, aviators, golfers, and sailors. These smartwatches are more akin to a tool watch than a traditional wristwatch.
It aids professionals in their day-to-day jobs and missions, allowing them to excel in their respective industries.
The watch we're talking about here is the Garmin MARQ Driver, a wristwatch designed for professional racers. It is one of the expensive Garmin watches available, costing approximately $2500.
This crystal oscillator watch comes preloaded with over 250 racetracks from around the globe, allowing you to choose a track and observe it directly on the watch face. This watch also has a GPS built-in, which allows you to check your distance and speed throughout the race. There is also a racing activity app that allows you to monitor your performance and improve as a driver.
Aside from racing features, the watch has smartwatch capabilities such as remote payment, wrist-based heart rate monitoring, activity and sleep monitoring, and more.
So, even if you are not an excellent racer, you may take advantage of this watch if you want to acquire a luxury timepiece. It is also available on the Garmin and Amazon sites.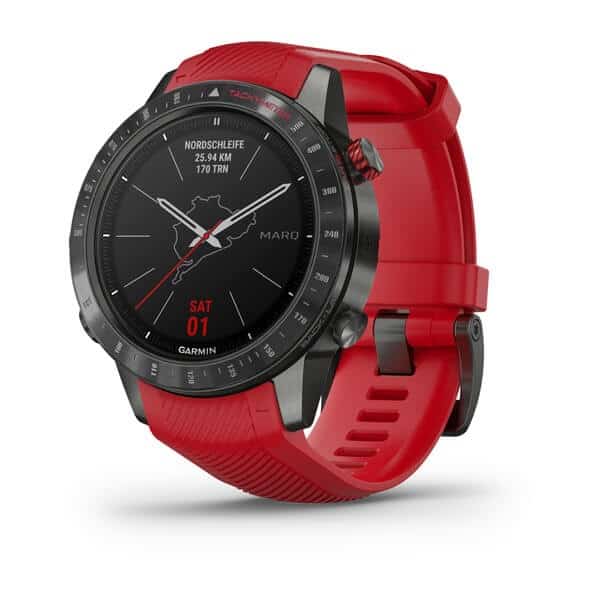 4. Montblanc Summit 2
Montblanc's Summit 2 is a premium Chrono smartwatch timepiece with a quality and attractive design that is powered by Google's Wear OS.
This smartwatch contains a Snapdragon 3100 CPU, up to 4 GB of storage, and 1 GB of RAM, as well as a 500 mAh battery that is tuned to provide a full day of average operation.
With ease designed with a 1.2-inch AMOLED display with chronograph function, it comes with several sorts of sensors like heart rate, altimeter, and ambient light giving you all the vital information in its clear-looking screen giving five different stainless steel casings.
It has many leather straps, enabling you to select the appropriate color to match your fashion sense, as well as a 50-meter water-resistant function.
This expensive smartwatch includes a sapphire scratch-resistant cover glass, as well as glass and fiberglass epoxy on the back, so you won't have to worry about it becoming wet, splashed, or damaged in everyday usage.
The Montblanc Summit 2 is an excellent option if you want an expensive smartwatch with full luxury.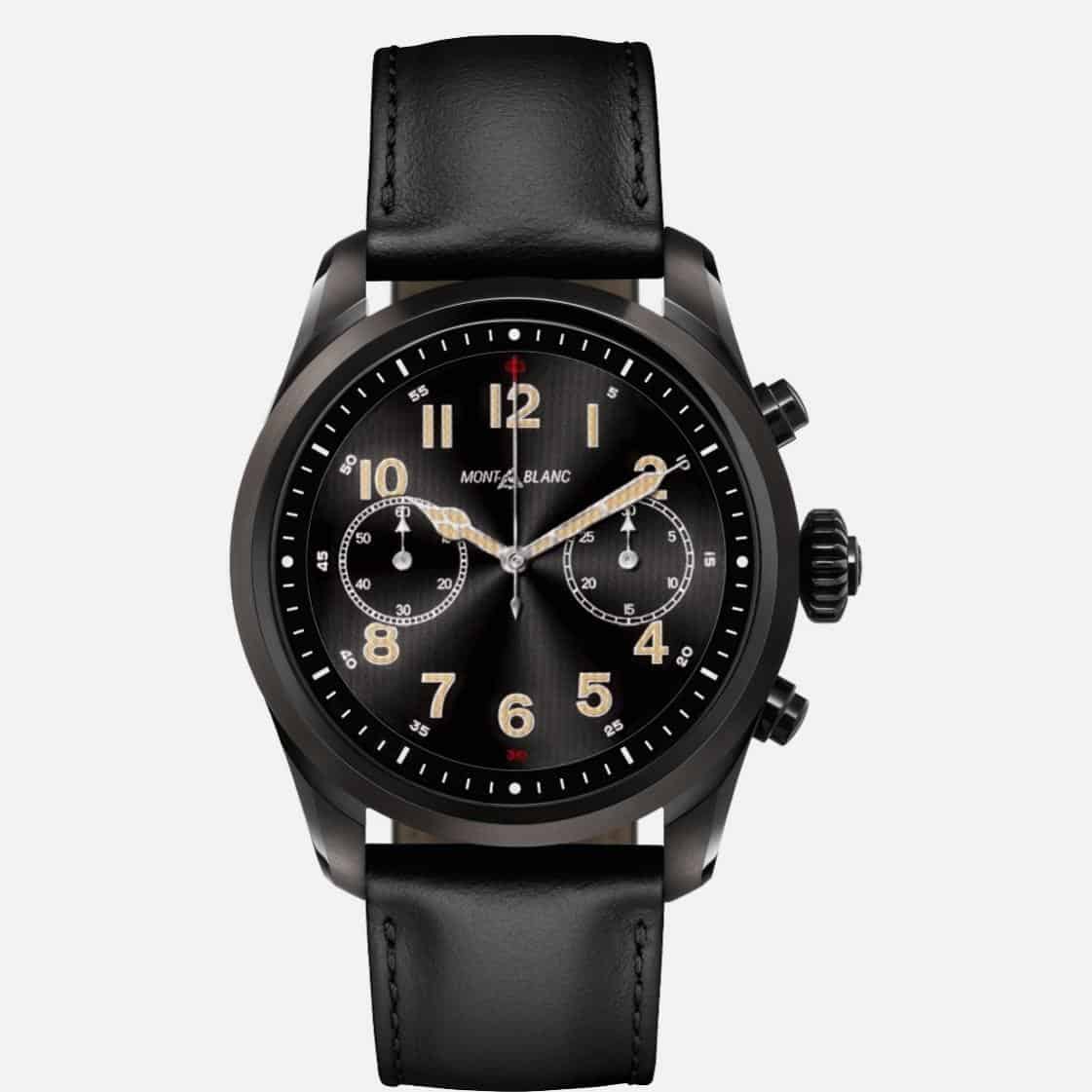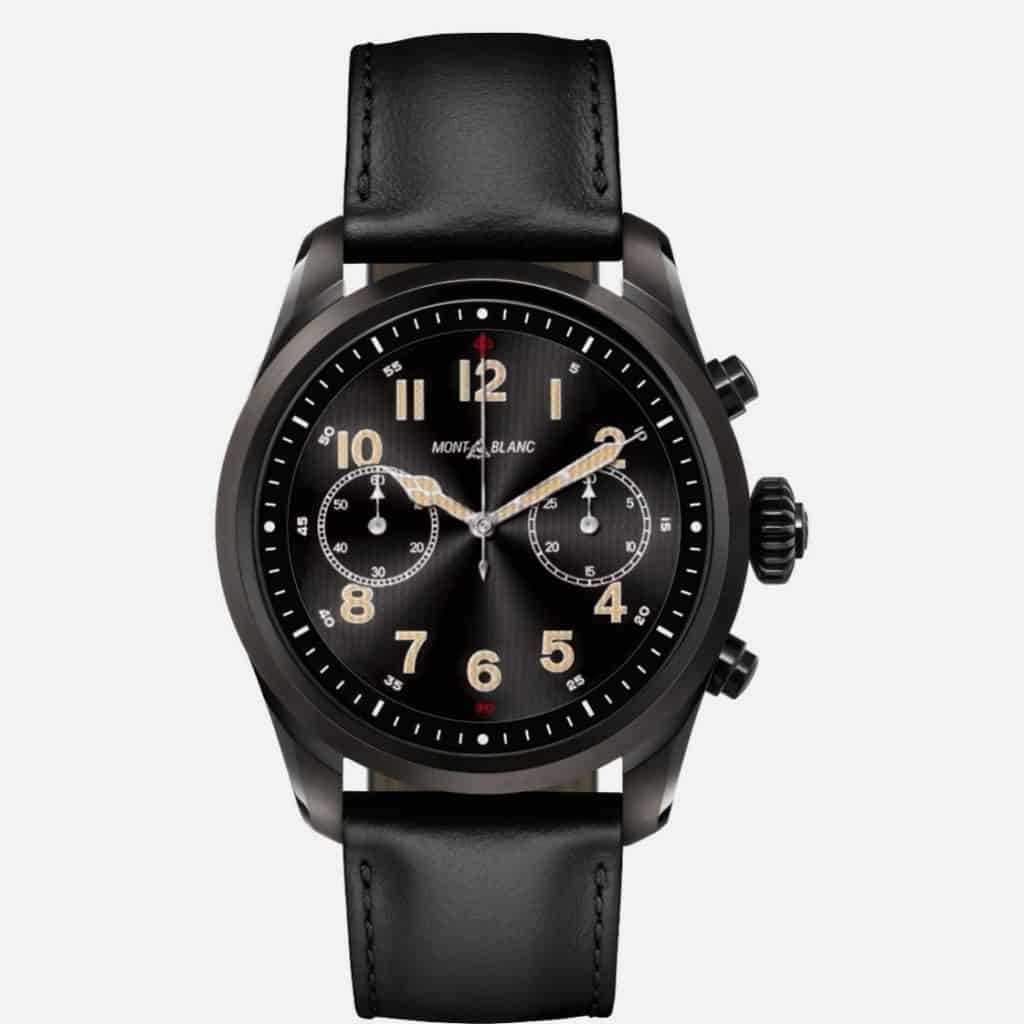 5. LV Tambour Horizon Monogram Eclipse Limited Edition
Louis Vuitton is a well-known luxury fashion company that produces a wide range of goods, but it has expanded its roots to produce elegant and expensive smartwatches for its devoted consumers.
Here we have the LV Tambour Horizon Monogram Eclipse Limited Edition, which comes in many colors and may wear by both men and women.
This version's case design has the same LV classic style and a sapphire crystal glass with LV emblem, as well as a huge leather straps design from which to select your favorite. The LV Tambour Horizon Monogram Eclipse Limited Edition comes in many various sizes, but it has a circumference of 42mm and a thickness of 12.55mm.
There are plenty of useful features incorporated into this wristwatch from the get-go, such as GPS tracking, fitness tracking, a gyroscope and microphone for taking measurements of your body temperature, Smart notifications, and a touchscreen for simple operation.
It's no wonder that the LV Tambour Horizon Monogram Eclipse Limited Edition is such a popular choice amongst consumers.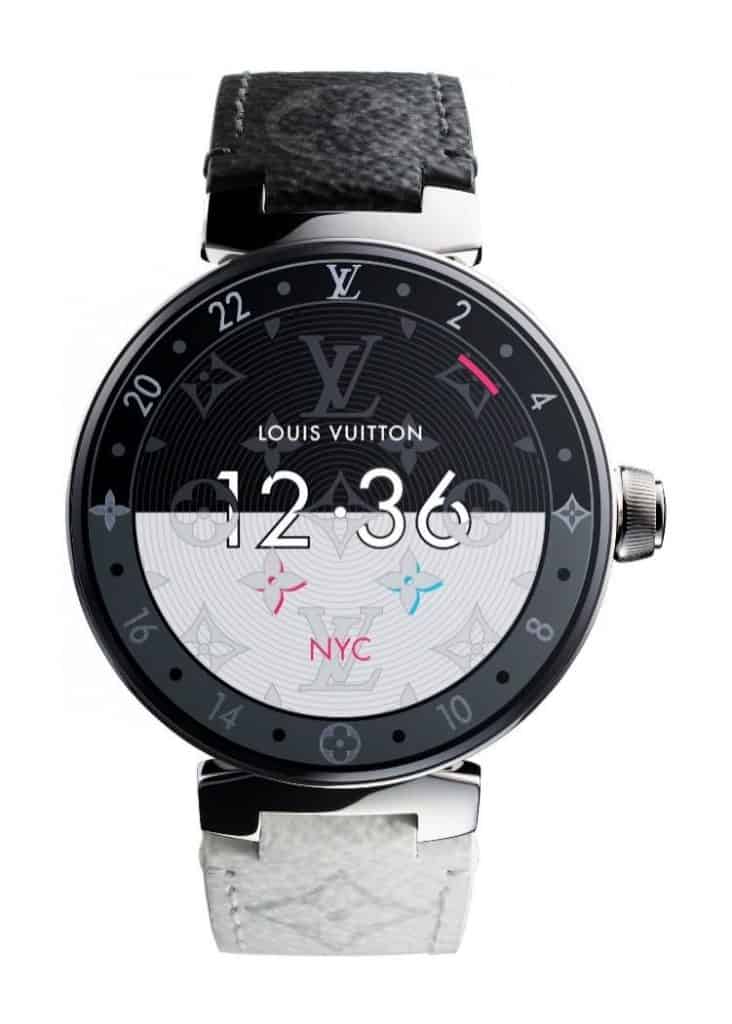 6. Kairos Hybrid Watch
As a result, we'd like to begin our list with an award-winning design smartwatch. The watch features a dual display, one that is transparent and one that conceals.
Notifications and messages are shown on the clear digital display as they arrive. When there is no message or job on the screen, you see an analog timepiece with mechanical working components. So it's a mechanical hybrid smartwatch, which you don't see very often.
It connects to your Android or iPhone and displays alerts from your phone on its clear digital display. It also functions as a fitness tracker and displays your essential health metrics since it supports health monitoring.
It has basic Smart features, but it can also act as a remote control for your phone, which is unusual among expensive smartwatches. It can control music or snap selfies without touching your phone.
The watch is also made to last since it is waterproof and can tolerate severe handling. It also feels the luxury to wear and comes in three distinct hues, giving this watch a rich appearance. It is one of the expensive hybrid watches on the market, costing approximately $2500.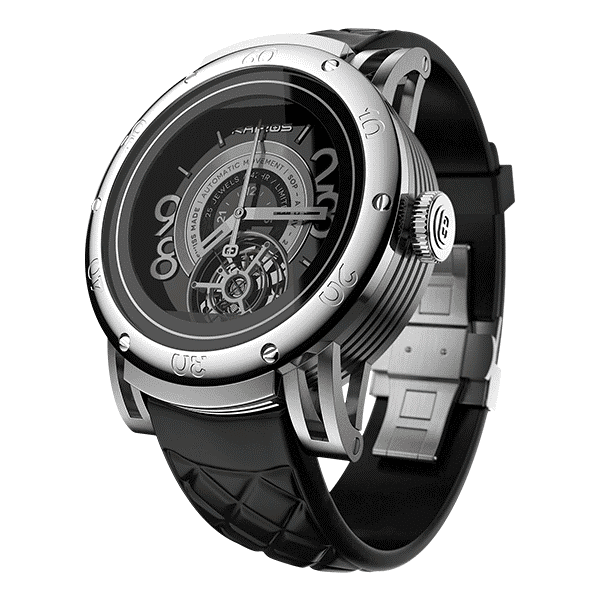 7. Nico Gerard Sunrise Pinnacle
You've seen a variety of watches on this list so far, but you haven't seen a 2-in-1 watch. Combining the functionality of an Apple Smartwatch with the Swiss watchmaking history.
Nico Gerard, a premium watchmaker, has collaborated with Apple to create this one-of-a-kind timepiece. This smartwatch intends for those who wish to wear both traditional and contemporary smartwatches.
Depending on the situation, you may wear one watch on top and the other underneath your wrist. You may wear the sunrise pinnacle as your primary watch to work, parties, and social gatherings. While you're sitting with pals or working out at the gym, this smartwatch may be at the top of your list.
The original edition of the Nico Gerard Sunrise Pinnacle can set you back a few hundred dollars. One of our most expensive smartwatches is the all-gold version, which sells for almost $100,000.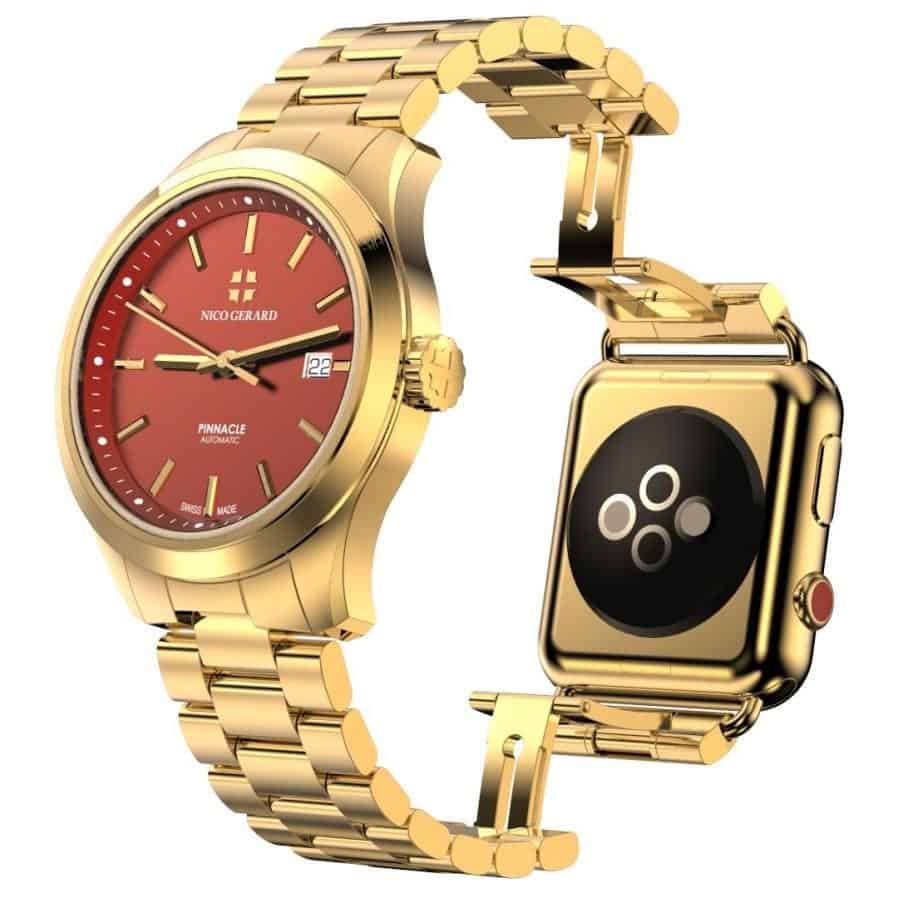 8. Mondaine Helvetica Smartwatch
The Mondaine Helvetica Smart is subtle and beautiful, with powerful Smart capabilities and an attractive design that is compatible with Android 4.4+ and iOS 8+.
This watch includes a circular analog display, a brushed stainless steel casing, and scratch-resistant sapphire crystal glass, giving you a superb viewing experience and keeping you water-free in any severe environment.
This watch's strap is constructed of real leather, which will give you a delicate look and make you seem more sophisticated.
This wristwatch talks through Bluetooth and provides health monitoring data like steps and sleep patterns to your smart device via the MMT 365 app, providing you with essential information to keep you on track.
With a water resistance of up to 30 meters, this watch has a battery life of up to 2 years, allowing you to wear it for an extended time without anxiety.
This watch can endure splashes or short immersion in water, so you won't have to worry about water splashes during normal use. If you want a gorgeous watch with some clever functions, the Mondaine Helvetica is the best option for you.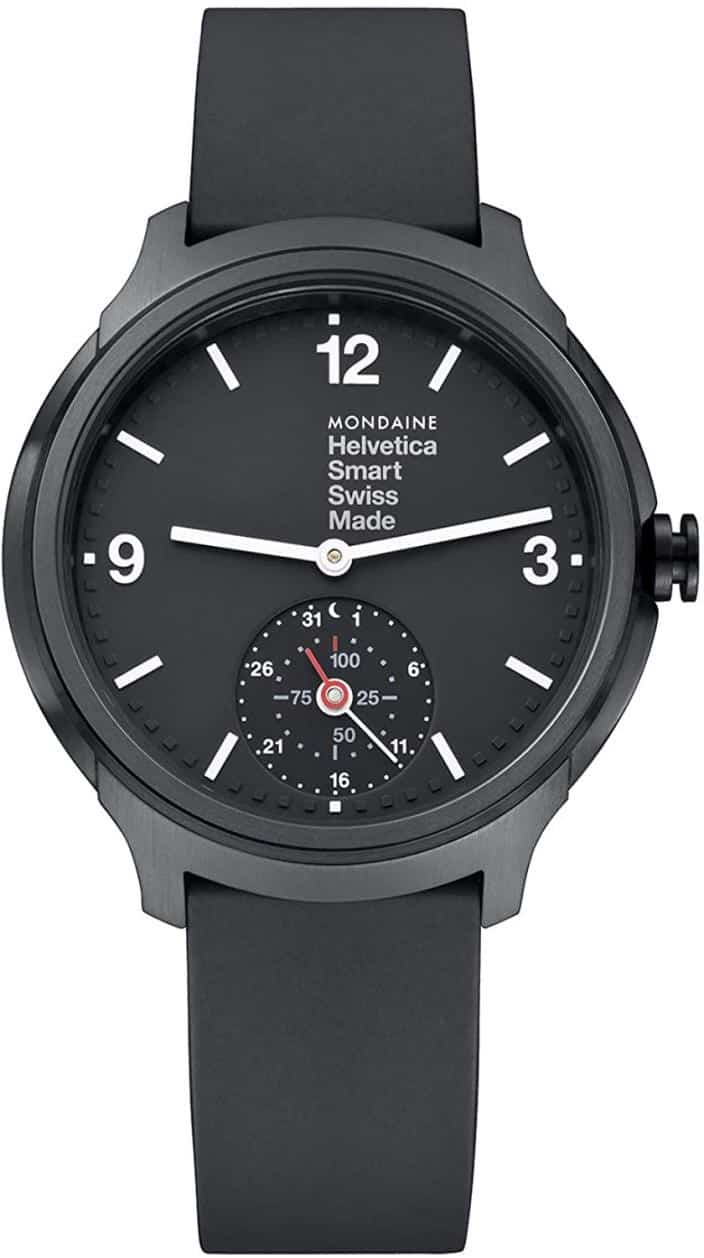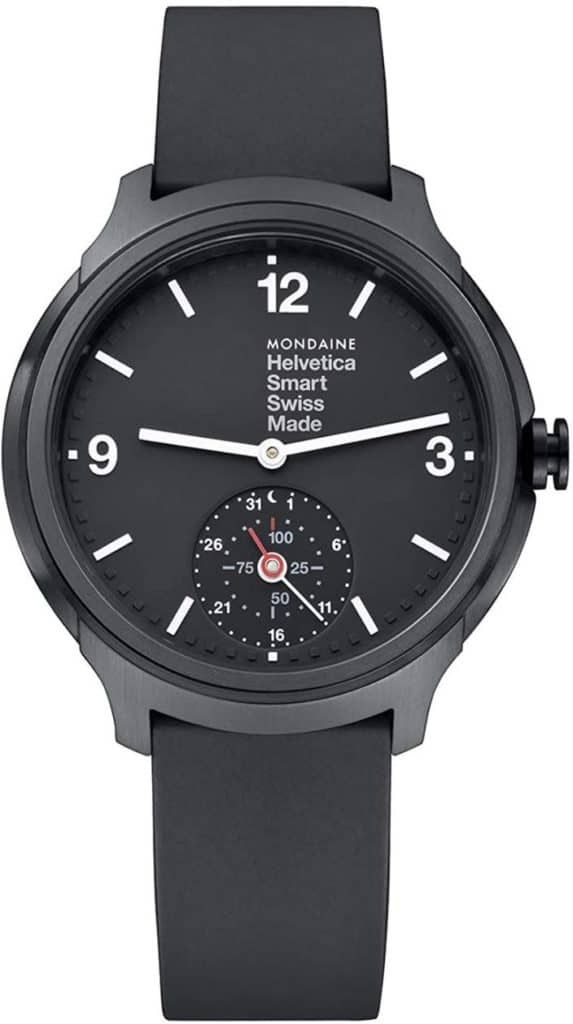 9. CASIO PROTREK PRO Trek WSD-F30
For outdoor enthusiasts, the Casio ProTrek WSD-F30 wristwatch provides a plethora of helpful functions and a super-durable design. The watch has a dual display and a long battery life to enhance any wild experiences. It runs Google's Wear OS, which supports Android 4.4 Plus and iOS 9.3.
The watch has a snapdragon 2100 CPU, 4 GB of storage, and 512 MB of RAM, as well as a battery life that ranges from one and a half days to one month, allowing you to use it to the maximum whether you're out exploring or going about your daily business.
This wristwatch is well-known for its dual-screen design, with the 1.2-inch OLED screen displaying GPS and other smartphone functions and the monochrome LCD screen displaying vital information such as time and sensor ratings.
It includes a 3-axis accelerometer and gyroscope, as well as GPS and accelerometer, making it an ideal wristwatch for any outdoor setting. It is created with military-grade 810 g and 5 bar water resistance certifications, as well as a stainless steel casing.
If you want a luxury wristwatch with a dual-screen, a long battery life, and compatibility with a wide variety of Android and iOS devices, the Casio ProTrek WSD-F30 is the correct option for you.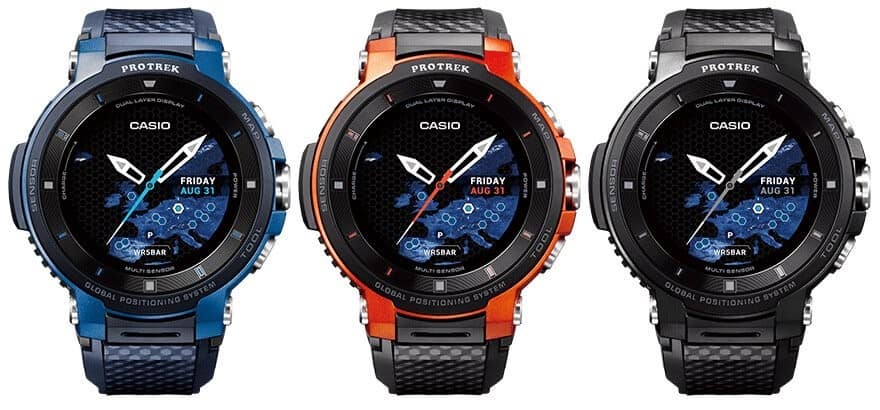 10. Movado Connect 2.0
The Movado connect 2.0 is a luxury smartwatch that will look great on your wrist while still being reasonably priced. It runs on Google's Wear OS, which is compatible with both iOS and Android devices.
This expensive smartwatch includes a high-resolution touchscreen display that can personalize in many ways, a snapdragon 3100 processor, 8 GB of storage, 1 GB of RAM, and a battery life of up to 24 hours, giving you an old inconvenience time without bothering about recharging.
It will include eight distinct sensors, including a heart rate monitor, a gyroscope, and GPS, and will be handcrafted with a 42-millimeter stainless steel casing and a ceramic case back.
These expensive smartwatches include interchangeable bands made of leather mesh fabric and stainless steel, enabling you to choose the ideal strap for your style with a gorilla cover glass finish.
Furthermore, it features an IPXD water-resistant certification, which protects your watch from water splashes or perspiration, allowing you to wear it anywhere. If you're looking for a fashionable smartwatch to wear, the Movado Connect 2.0 is a great option.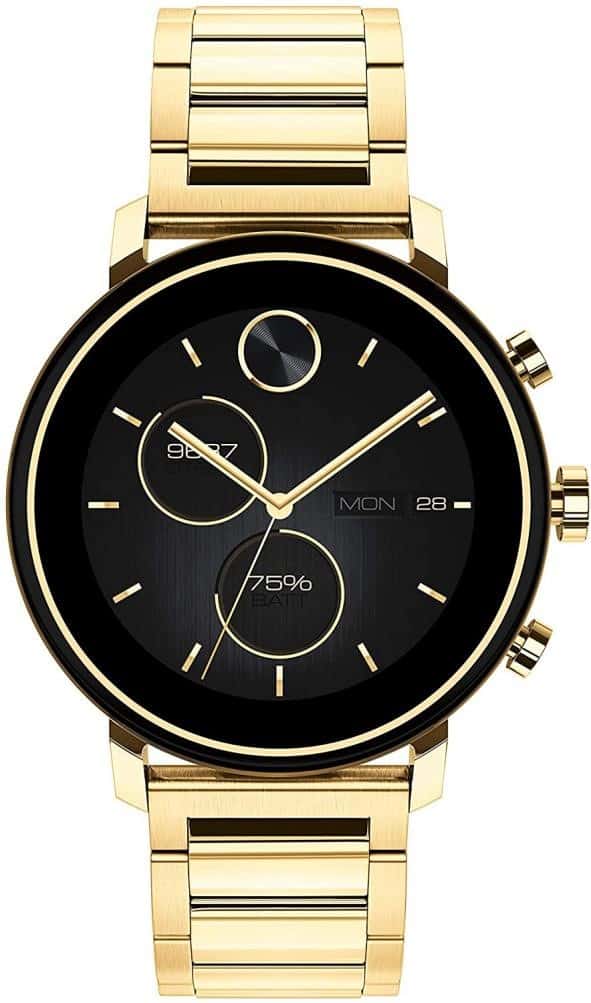 Conclusion
If you expected to find an Apple or Samsung Smartwatch on this list, you'd be mistaken. Apple and Samsung smartwatches are expensive, but not as expensive as these luxury timepieces.
Apple, Samsung, and Garmin create expensive smartwatches for the general public, therefore their prices are always within most people's budgets. However, the expensive smartwatches featured here intend for professionals and luxury usage, and so are rather pricey.