Smart clothes are clothing products that have been augmented with technology to offer functionality beyond the usual application. In this article, we will explore the different types of smart clothing available in the market.
Some smart garments are made of innovative fabrics with interwoven circuits, while others employ sensors and other hardware to provide Smart functionality. Many smart garments may use Bluetooth or Wi-Fi to link to an app or software on a secondary device. However, the wireless connection is not required to designate a garment as Smart clothing.
What are the different types of smart clothing?
Many small and large enterprises have started to incorporate technology into their clothing, resulting in Smart garments appearing in practically every fashion category. Among the many diverse styles of high-tech apparel are:
Smart Socks: The Sensoria Smart Socks can determine which portion of your foot is under the best pressure during a run and relay this information to a smartphone app.
Smart Shoes: Pizza Hut has experimented with limited-edition Smart sneakers that can order pizza.
Smart Work Clothes: Samsung has developed a Smart business suit that can exchange digital business cards, unlock phones, and communicate with other gadgets.
Smart Sleepwear: Under Armour's Athlete Recovery Sleepwear collects body heat while emitting infrared light to boost sleep quality and muscle recovery.
Smart Activewear: PoloTech t-shirts from Ralph Lauren link to a smartphone app to track exercise activities and offer new routines to the user.
Smart Casual Wear: Tommy Hilfiger incorporated technology into some of their apparel to measure product consumption and reward consumers for the period they spent wearing it.
Smart Glasses: You can check out many examples of smart glasses on our website.
Smart Clothing Classification:
In reality, even though there are different types of smart clothing, there is no clear categorization of Smart fabrics. Smart textiles are often classified into three groups based on their functionality.
The First Generation. Passive Smart Textiles:
Passive smart textiles can only detect data about environmental conditions or stimuli. Sensors are the only components of this sort of textile. For example, UV protection clothing, plasma-treated clothes, fabric with optical sensors, etc.
The Second Generation. Active Smart Textiles:
Sensors and actuators are included in the second generation of smart textiles. Active Smart materials may remember their form, maintain the chameleon effect, control temperature, resist water, absorb vapours, heat the suit fabric, and store it. It refers to "smart" materials.
The Third Generation. Ultra Smart Textiles:
The third generation of textiles is much more sophisticated. They can not only perceive different inputs but also foresee and suit external situations without any prior adjustment. Because of the built-in microprocessor, such fabrics function similarly to the brain. Spacesuits, I-wear, sports jackets, musical jackets, wearable computers, and other items fall into this category.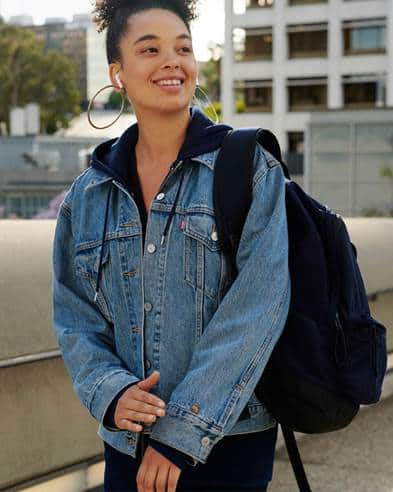 What are some examples of various types of smart clothing?
1. Nadi X Yoga Pants By Wearable X
Yoga may be challenging, particularly if you are just starting. What movements do you make with your body? How long have you been in your positions?
You may find yourself in over your head if you do not have a decent tutor or if you attempt to do it yourself. The Nadi X trousers from Wearable X, a Sydney-based business, aim to change that.
The workout trousers include built-in haptic sensations that gently pulse at the hips, knees, and ankles to stimulate movement and/or posture holding. It connects to your phone through Bluetooth and provides extra input via the companion app. It is available in four sizes: XS, S, M, and L, along with four styles: Midnight, Midnight with black, Black/White with mesh, and Navy/Gray with mesh. 
2. Smart Clothing Jacket By Levi's Google Jacquard
The Levi's Commuter Trucker Jacket is the first linked article of apparel to be released under Google's Project Jacquard platform.
Users could engage with many services, including music and GPS applications, by creating touch and motion-sensitive zones on the jacket sleeve. You could ignore phone calls with a swipe and receive directions with a double-tap — all without touching your phone.
After a little delay, the Smart denim jacket is now available to smarten up your commute in more ways than one.
3. Smart Shirt By Ambiotex
Ambiotex's Smart shirt is designed for serious athletes, whether you're a runner or biker, or spend your days at the gym.
Because of the compression-style fit, you'll need to be in fairly good condition to pull it off. It will assess heart rate variability, anaerobic threshold, fitness, and stress levels using embedded sensors in the garment and a clip-on box to capture the data.
Data may be seen in real-time on the accompanying smartphone app, where you can also benefit from personalized training programs and get insights into your physiological data and what it implies for maximizing training and restoration.
The heart rate accuracy appeared to hold up, and although it does not completely break the mould for fitness-based Smart clothing, it does a nice job of churning out facts and putting those statistics to good use.
4. AIO Smart Sleeve By Komodo
Despite a failed Kickstarter effort, Komodo Technologies managed to market their compression sleeve that monitors heart rate activity using electrocardiogram (ECG) technology.
Aside from providing precise heart rate data, it also measures sleep and exercise intensity and comes in two variants. Its module also includes sensors for monitoring body temperature, air quality, and UV radiation.
While it seems to be an ideal match for exercise enthusiasts, the firm behind AIO believes that it could also evaluate stress levels and even aid identify heart inflammation and coronary heart disease.
5. Smart Sports Bra BY Supa Powered
Supa, Sabine Seymour's fashion tech firm, combines neon, a heart rate sensor, and AI to create a Smart bra with many personalities. It is water-resistant and uses Bluetooth to connect to the Supa.AI app. It will utilize invisible biometric sensors and AI to measure not just workouts but also things like UV levels.
The Supa is available in three sizes-small, medium, and big – and three unique styles. There are the Supa thick stripes, a blue-tinted blend, and the vibrant 'colors.' You can acquire the bra for $120, but you will also need the Supa Reactor to keep track of your health data.
6. Smart Sock Gen 3 By Owlet
The newest iteration of Owlet Smart Sock has all of your favourite features. It employs the same pulse oximetry technology used in hospitals to monitor the baby's heart rate, ensuring that his or her resting and breathing are not disrupted.
It is available in three many sizes, powered by a base station, and transmits data in real-time to your iPhone or Android phone. Improved Bluetooth range (up to 100 feet) and more precise sensors are among the new features.
It will also be compatible with Owlet's new Connected Care platform, which aids in the detection of possible health concerns such as RSV, pneumonia, bronchiolitis, chronic lung illnesses, and heart abnormalities.
7. Smart Swimsuit By Neviano
This French fashion technology firm has been hard at work developing linked clothes, such as jeans, dresses, and bikinis. The Neviano UV Protect swimsuit series has a detachable medallion-style waterproof sensor that prevents you from spending too much time in the sun.
Once you have registered your skin type into the associated iOS or Android smartphone app, the temperature will monitor throughout the day. Then it sends out alerts when it is time to reapply sunscreen or seek shade.
Neviano swimsuits are fashionable and equipped with UV sensors. The sensor is waterproof, roughly half the size of an adult's thumb, and links to the wearer's iOS or Android smartphone.
Overall, this is an intelligent swimming suit that gives you reminders to apply additional sunscreen when UV levels are high.
8. Smart Shirt By Hexoskin
This popular item of Smart apparel is yet another incredible illustration of fashion technology. The Montreal-based startup has created a Smart sensor-laced linked garment.
The shirt has a heart rate, breathing, and movement tracking sensor, along with Bluetooth, so you can couple it with your favourite fitness applications like MapMyRun, RunKeeper, and Strava. 
Furthermore, Bluetooth allows you to connect to a plethora of third-party gadgets. Data is collected in real-time and uploaded to the accompanying app, which provides insights into many sporting parameters.
Intensity and recovery, calories burnt, exhaustion level, and sleep quality are all included in the data. Because of its intricate construction, Hexoskin's sportswear can track your heart rate, calories, volume and breathing rate, steps, cadence, and even sleep. The Smart clothes are crafted from high-quality Italian materials, and the little gadget conceals in a hidden pouch on the shirt.
The Hexoskin smart gadget, which is available in short and long-sleeved variants for men and women, can link through Bluetooth to all sorts of Android and iOS devices.
9. Smart Gym Clothes By Athos
Athos's Smart gym clothes are based on pricey medical technology but are meant for gym bunnies. Its training pants are woven with micro-EMG sensors that recognize which muscles are active and send exercise data to a smartphone through Bluetooth.
Muscle effort, pulse rate, and breathing rate are all monitored, and the app delivers insights to help you exercise safely and prevent damage. It might be the pocket-sized personal trainer you have been looking for.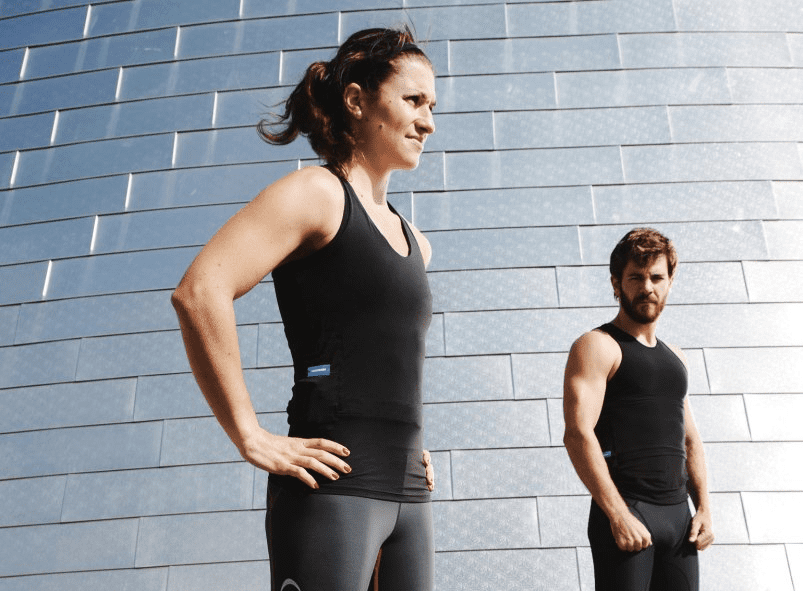 10. NFC Smart Suit By Samsung
Samsung is investing heavily in Smart clothing, after its Body Compass exercise shirt, which monitors biometric data, and a golf shirt developed in partnership with Bean Pole Golf, which incorporates weather and UV rating monitoring.
The Korean corporation also has an NFC smart suit, developed in partnership with Rogatis, allowing the user to unlock their phone, digitally exchange business cards, and set devices to office and driving modes.
It is already available in Korea for about $500 under Samsung's wearable brand The Human Fit, with no word on whether it will release in other markets.
Bottom Line
Many technology firms and fashion labels are dabbling in the Smart clothing sector, with more anticipated to follow if the idea proves successful.
Under Armour, Levi's, Tommy Hilfiger, Samsung, Ralph Lauren, and Google are among the most well-known businesses experimenting with Smart apparel. Sensora, Loomia, Komodo Technologies, and Hexoskin are among the smaller firms making inroads into the niche industry.
While Samsung and Google are the most prominent tech corporations investing in Smart clothing, smaller startups such as OmSignal, BioMan, and Awear Solutions are also building a name for themselves by producing their clothing lines or cooperating with major fashion brands.