We just received the 'Virtual Reality Box' Virtual Reality headset with Bluetooth remote controller. As exciting as the notion of the Metaverse is, putting it into practice will require time and effort.
Overall, our experience with the virtual reality Box has been positive, with a few drawbacks that we shall discuss in this post.
Design
Except for the white "stormtrooper" plastic front panel, the Virtual Reality Box is completely black. We like the way the Virtual Reality Box looks, and the additional grill elements on the front make it seem a bit more expensive.
A flexible elastic band is attached to the side and top and can adjust to suit your skull no matter how crooked it is. Another feature of the Virtual Reality Box that we appreciate is the detachable panel on the front.
It enables you to utilize the phone camera while still wearing the VR gear, which is fantastic! Please let us know if you have discovered any applications that utilize the camera in the comments below since we could not locate any in the Google Play store.
The optical adjustment on top works well. To achieve the greatest focus, you may move each lens forward, backward, left, and right.
The phone kept getting caught in the Virtual Reality Box insert when we tried to put it back in while we were using the headset. The insert's design enables it to quickly grab at the improper angle, preventing it from slipping into the headset. You get accustomed to the odd angle required with time, but it's still somewhat unpleasant at first.
Comfort
The sponge padding around the rim is well done by Virtual Reality Box. When you initially put on the Virtual Reality Box, the plastic strap connector may scrape into the back of your head. A fast fix for this is to bend it into a slightly curved form to better match the curves of your head (worked for me).
Overall, we did not use the headset for more than 30 minutes at a period since it pressed somewhat on our nose.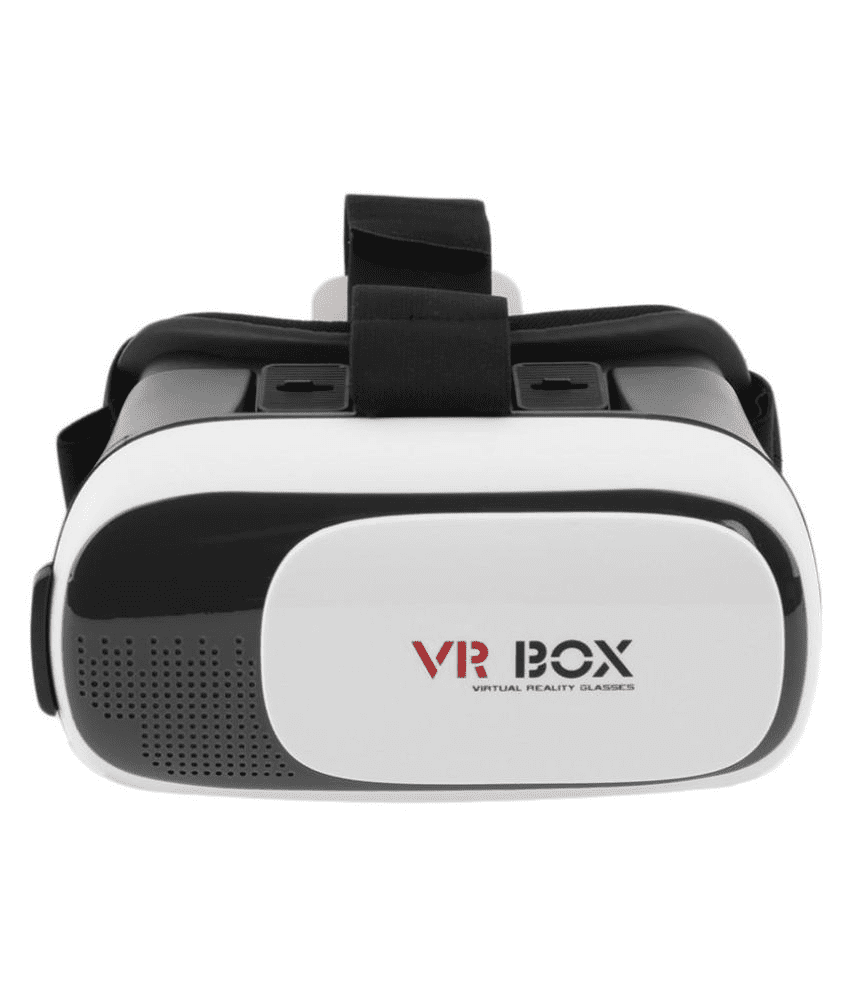 Setting Up & Testing The VR Box
The Virtual Reality Box is pre-assembled in a cardboard box with the basic components you need to get started. Before you may use the Virtual Reality Box, you must first place the three sponges to the insert. When you enter your smartphone into one of these, no phone buttons will push since you place them yourself.
So, how does it work? The Virtual Reality Box creates the appearance of a single 3D picture or video by using side-by-side images and dual-optics.
Search for "3D VR" on YouTube.
Choose a video
Insert your smartphone into the plastic insert of the VR Box.
Place this in the Virtual Reality Box.
Put on your headset.
Fine-tune the optics until the picture is clear.
You have just become a VR Headset Pro.
It is simple to insert your phone; pull back the spring mechanism and enter your phone. Maintaining a strong grip on your phone is easy thanks to the proper amount of insert pressure. After you have secured your phone, slip the tray into the headset.
We measured the insert and took phones with a maximum width of 3 inches (7.5cm) and a maximum length of 6 inches with the Virtual Reality Box (15cm).
The Virtual Reality Box would suit phones ranging in size from 4.7 to 6 inches. You may be able to fit in a somewhat longer phone, depending on its size and form, thanks to the slightly curved edge.
Also, if your phone has a full HD screen, look for full HD VR content, since anything less may seem grainy in VR.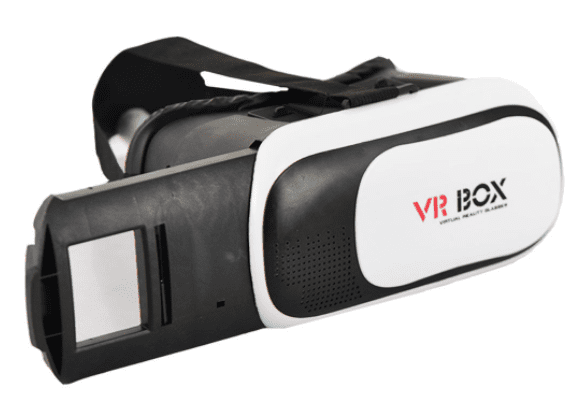 VR Games & Apps
The Google Play store is your best hope for getting a good VR experience. The number of games available is increasing, but we still found it to be pretty limiting.
Also, there is not a simple method to search for solely VR-enabled games and applications, so uncovering the hidden jewels requires some trial and error.
Below are some of the top free VR games and apps:
Insidious VR (free): This is a 3D trailer for the horror flick Insidious.
Galaxy VR (free demo): A space shooter in which you fly a fighter ship from the cockpit.
Cardboard Camera by Google (free): A collection of 360-degree photographs that you can browse by rotating your head.
Deep Space VR (free): You operate a space rifle that shoots wherever your headset points.
Star VR Racer (free): A Tron-style platformer in which you must avoid colliding as the game accelerates VR videos.
VR Videos
Fortunately, there is already the best quantity of VR videos available on YouTube that can be seen with the virtual reality box headgear. The simplest approach to locate this is to Google 'Cardboard VR' or 'VR 3D.' Always strive for 1080P or better content whenever possible for the best experience.
Headphones
If you plan on using headphones with the virtual reality Box (which you should for a more immersive experience), make sure your headphone jack is pointing properly so that when you detach your phone, the headphone wire comes out with the insert.
Setting Up The Game Controller
We got a little black controller with orange buttons as part of our trial. Selecting the controller from your Bluetooth settings is all that is required to connect it. The controller works fine, but don't expect miracles due to its small size and low price. The controller may also use with any suitable game, not only VR games.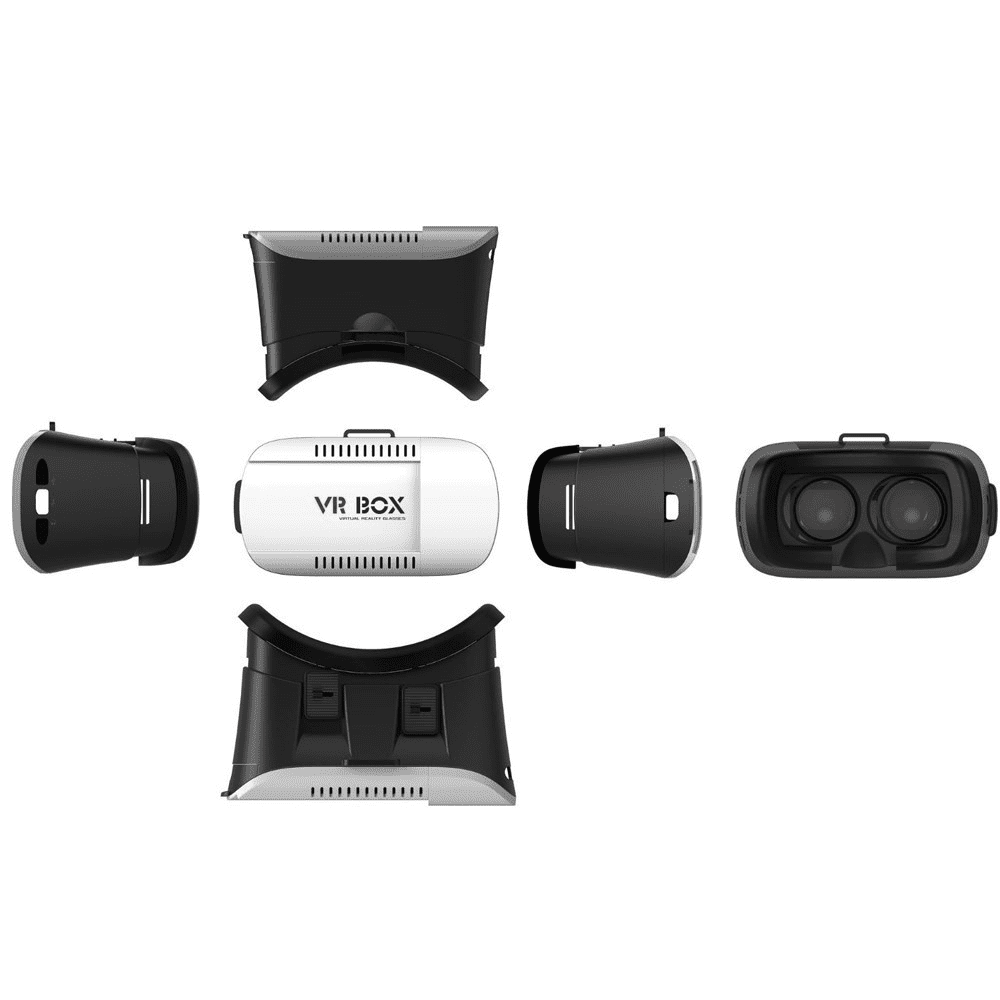 Build Quality
Because this is a low-cost VR headset, the construction materials are, predictably, plastic. The headset is well-made, with no loose or shaky pieces, and it feels strong overall.
The only place where we observed a tiny reduction in build quality was on the lens adjustments. Our right lens adjuster was stiffer than our left, making setting them a bit complex since each needed a different amount of pressure.
Applications Of A VR Box
A virtual reality headset may give users tangible experiences that would otherwise be impossible. A VR headset, for example, may measure someone's heart rate or blood pressure if it links to medical equipment.
Virtual reality headsets are used by businesses and educational organizations to teach and educate their staff and learners. Architects, for example, may create architectural plans, while car manufacturers can test their vehicles on virtual roadways.
Also, in the entertainment industry, virtual reality headsets are used to create unique experiences that cannot duplicate without them.
VR headsets are used for many purposes, including educational simulation, gaming, mimicking locations and events, and real-time remote connection with people and things. VR headsets may also use to escape reality for enjoyment (for example, a virtual vacation) or training (such as medical simulation).
A VR headset does not need special equipment or a large space. In most circumstances, the user only needs something with an aspect ratio of 16:9 or 4:3 that they can hold in front of their eyes. Instead of having a 360-degree field of vision like in mobile virtual reality, some users will have a fixed point of view and will only tilt their heads.
Most virtual reality applications improve with motion tracking sensors, which enable the user to move freely and securely inside their environment.
Concerns regarding virtual reality headgear's safety grow as corporations and media utilize it more. Using virtual reality headgear has caused motion sickness or confusion in some users.
If a VR headset does not equip with adequate motion tracking sensors, the immersive experience might cause motion sickness in certain users. It has also been suggested that the usage of VR headsets by children under the age of 13 should be limited or prohibited for safety reasons, which may contain concerns such as cyberbullying.
Pros
Low cost.
Face cushioning that is comfortable.
Firmly grips the phone.
A keyring-sized gaming controller is included.
High-quality lens cleaning cloth.
The camera port is detachable.
It's well-made.
Cons:
The nose recess is too small.
The sweet spot would be between 5.5 and 6 inches.
Conclusion
If you're searching for your first VR experience or want to give someone a VR headset as a present, the Virtual Reality Box is an excellent option.
Having 4-way adjustable optics makes it simple to concentrate on films and games. The accompanying controller is also an incredible addition, allowing you to play VR games right away. The Virtual Reality Box is a nice purchase for the price.