Almost every day, we come across great items that use modern technology to make our lives simpler.
Although technology has taken over our life, everyone loves having a phone that can snap excellent images and capture family memories, freezers that can chill and store food for days on end, and free information at our fingertips.
However, have you ever heard of a smart home bar table? Or a smart home coffee table? You're probably wondering what this sort of device is and what it can accomplish, which is why we'll go over the Smart coffee table and what makes it so unique.
Things To Consider When Choosing Smart Home Coffee Table
What has your experience been like with utilizing a smart home coffee table? It has sophisticated features that you cannot afford to overlook. Smart Home Bar tables have a lot more to offer than just Bluetooth speakers, tempered glass tops, and Smart apps.
It does, however, come at a premium price — but the features make it worth every penny. The following are some of the reasons why you should include the Smart Home Bar Table in your purchasing list:
1. Convenience
The ease of use provided by a smart home coffee table is unparalleled. First, the USB connections allow you to charge your tablets and mobile devices.
Second, everything you need, such as cold beverages, fridge control, Bluetooth speakers, and storage, is right at your fingertips.
2. Refrigerator / Cooler:
You could crave a chilly sip of your favourite beverage while you rest on your sofa or bed. You don't have to go to your kitchen fridge for a quick snack when you have a smart home coffee table.
A Smart coffee table includes a built-in refrigerator drawer for storing your favourite beverages. It's a handy tool to have around while you're entertaining guests.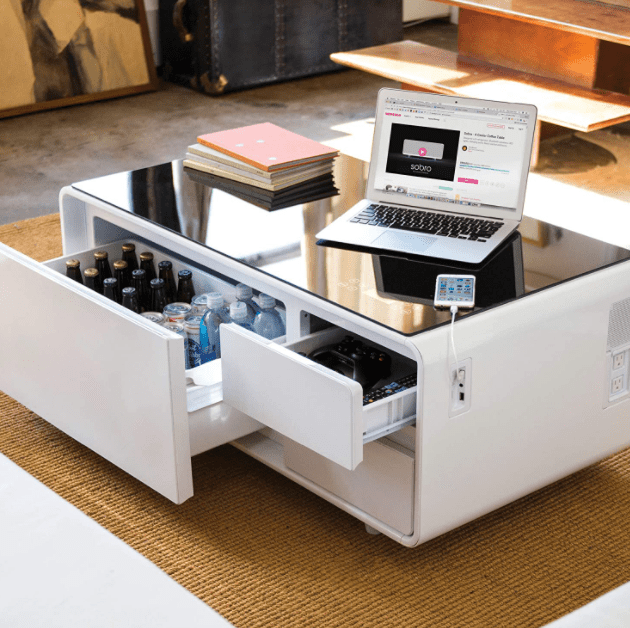 3. Storage Drawers
Everything in life is better when everything is tidy and ordered. Instead of having large cupboards in your living area, a Smart coffee table may help to mitigate this.
The Smart Coffee Tables should have great storage. Cables, remote controls, periodicals, books, and gaming controllers can store in the storage drawers.
4. Charging Station
It's nice to be able to charge your phone or laptop while you're currently using it. The charging cords of the Smart Home Bar Table might be a problem since they are lengthy and tangled, but still, it is good to have.
5. Design
Do you want your house to have a trendy and attractive design? A stylish coffee table will bring elegance and sophistication to your living space.
Furthermore, with its eye-catching and unique motifs, it combines nicely with the concept of your living area. 
You don't need coasters with Smart coffee tables. Second, rounded edge coffee tables are suitable for both teenagers and adults.
The Smart Home Bar table is available in a variety of colors, allowing you to choose one that suits the décor of your house.
6. Bluetooth Speakers
Do you wish to sip a cool beverage while listening to a soothing sound? The coffee table contains dual Bluetooth speakers in conjunction with Smart capabilities.
You may use your laptop, television, or mobile device to play music wirelessly and increase the bass sound.
It's an excellent source of amusement whether you have friends around or are throwing a party. You may listen to music without connecting to any other external devices.
7. Smart Control:
The Smart controls are used to run a smart coffee table. They may access via the glass top as well as with a Smart app.
The coffee table features a child lock mechanism to ensure the kid's safety. The coffee table has an eco-friendly function.  
8. Warranty:
A warranty is a vital consideration that guarantees the repair of a product in the event of a flaw or accident within a specific time limit.
Unless damaged, it functions as a written agreement between the buyer and seller, making it a must-have when purchasing. The Smart Home Bar tables are no exception, and as a result, the warranties cover the tables for at least a year.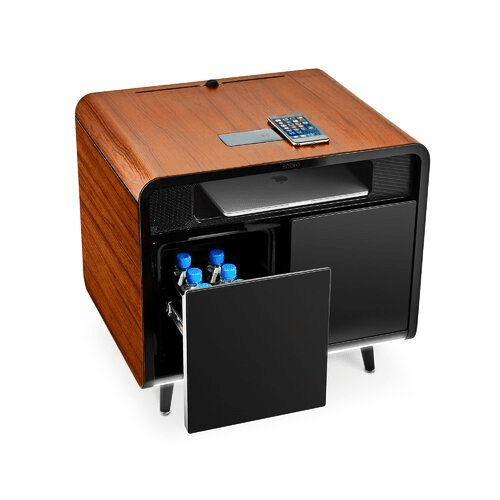 9. Cost
When purchasing a Smart coffee table, cost and performance are critical elements to consider. With more companies joining the Smart coffee table marketplace, there will be more alternatives for quality and performance.
The costly Smart Home Bar table is not necessarily the best choice for you and your money. Many low-cost models provide outstanding performance and comfort.
10. Branding
A Smart Home Bar table should purchase from a company that has high-quality items and excellent customer service.
Good brand items are made with extraordinary care and accuracy, and they will always be ready to answer your concerns, repair any problems in the product, or refund your money if any damage is discovered.
11. Specifications
Before making a purchase or adding items to your shopping cart, be sure the product suits your requirements.
Specifications are essential while selecting a product. With so many options to pick from, it's essential to make the proper decision. Choose a Smart Home Bar table that has been precision engineered to meet your needs.
Performance, features, and price are the three most significant factors to consider when comparing specifications while making purchasing decisions. Each of these characteristics will play a part in your ultimate decision. 
12. Comfort
Nobody wants to be uncomfortable or restricted while doing what they like. Assess the comfortable Smart coffee table of a product while determining whether to utilize it. There are numerous types of Smart Home Bar tables available that provide stability, control, and comfort.
13. Durability
The longevity of a Smart coffee table is influenced by its design, construction, and material. Choose a Smart coffee table that can withstand use, strain, and damage.
Also, ensure that it has a streamlined look that fits wherever. The durability of this product would appreciate by a busy parent or a construction worker.
What are the pros and cons of a smart home coffee table?
Many people consult consumer feedback while making purchasing decisions. It's simple to see why: who understands a product better than individuals who have tried it?
When considering which product to purchase, reading customer reviews may offer you a decent idea of how others felt about their purchase.
Not everyone will appreciate every product, and some individuals will be more inclined than others to leave a review. Customer reviews, on the whole, are a reliable predictor of how happy people are with a particular product.
Pros of a smart home coffee table:
• A Smart Home Bar table serves several functions. It may use for parties, storage, and other purposes.
The coffee table is helpful. With a single arm, you can reach controls, storage, and audio. 
The extra drawers on the coffee table keep you organized. Cable cables, remote controls, novels, and periodicals may store.
It has two charging connectors. You can charge your phone and laptop simultaneously without unplugging either device.
A wireless charging station may be present on a Smart coffee table.
Using the LED lighting control on the coffee table, you can establish the ambience for various situations such as home parties or bashes.
The coffee table is the best addition to any room. It is a stylish and helpful addition to any home.
You won't have to worry about your baby messing up the settings with the coffee table. It has a kid lock function.
The coffee table comes with a manufacturer's guarantee that covers maintenance in the event of a defect.
The LED lighting on the front of the table changes color and is triggered by motion.
Cons of a smart home coffee table:
The Smart coffee tables are pricey. 
Needs extra maintenance
Frequently Asked Questions (FAQs):
How Does The Smart Home Bar/ Coffee Table Acquire Its Power?
Smart Coffee Table intend for plug-and-play usage, which means they come with a power chord that must connect to a nearby power outlet. 
You may use a cable concealer to run the cord beneath the sofa or carpet, making it almost unnoticeable.
How Much Does ASmart Home Bar/ Coffee Table Cost?
Stylish Smart Home Bar tables range in price. Product costs are difficult to anticipate. Because the price range is so wide, you have no idea how much anything costs. 
What Is The Number Of Cooler Drawers On The Smart Home Bar/ Coffee Table?
There are two drawers on the Smart coffee table. One of the drawers has a thermoelectric drawer for keeping your beverages and food cold. You may keep your accessories, such as chargers, books, and remotes, in the other drawer.
Does The Smart Coffee Table Use A Lot Of Electricity?
In a full load, the coffee table uses 0.51 degrees each day. As a result, the power consumption rate ensures that no significant energy bills will incur after acquiring the Smart coffee table.
Conclusion
A Smart Home Bar table is an excellent present for a friend, family member, or personal use. It includes intelligent features that make it an incredible option for your home's comfort.
It is fashionable, lovely, and appealing to the eye. The table features a tempered glass top with several controls for operation. Aside from time and temperature, you can change the colour of drawers, music, and LEDs.
A smart coffee machine, in addition to a Smart Home Bar Table, is available for purchase. For example, the Jura coffee maker brews coffee using a smart connect Bluetooth app. With this technology, you may control a gadget from anywhere.